A mechanical engineer's old wisdom is that the best machine part is the machine part left out. According to Jarmo Kastell, CEO of Delva Oy, Rosendahl Nextrom's burner example shows that with metal 3D printing, we achieve success with significantly fewer parts – without compromising the functionality. 
Rosendahl Nextrom already does what many have just envisioned
Rosendahl Nextrom is the world's leading supplier of optical fiber and optical cable production technologies. Core competencies include optical glass manufacturing solutions, fiber drawing, fiber coating, and fiber optic cable production. The company takes the possibilities that metal 3D printing enables seriously, and the development work is already producing results.
Delva is happy to work with Rosendahl Nextrom. CEO Jarmo Kastell states that "Rosendahl Nextrom has widely recognized the benefits of metal 3D printing". He comments that with optimized structures and optimized material choices, metal3D printing often brings savings to the piece's prices. However, the overall benefit should be considered throughout the supply chain and throughout the whole life cycle of the component. The benefits are measurable in money and additionally achieve the goals of sustainability. A growing number of companies are carefully following closely these targets, alongside their financial results. Along the same lines is Etteplan's Tero Hämeenaho, whose team of 3D printing experts designed the printed burner presented in this article.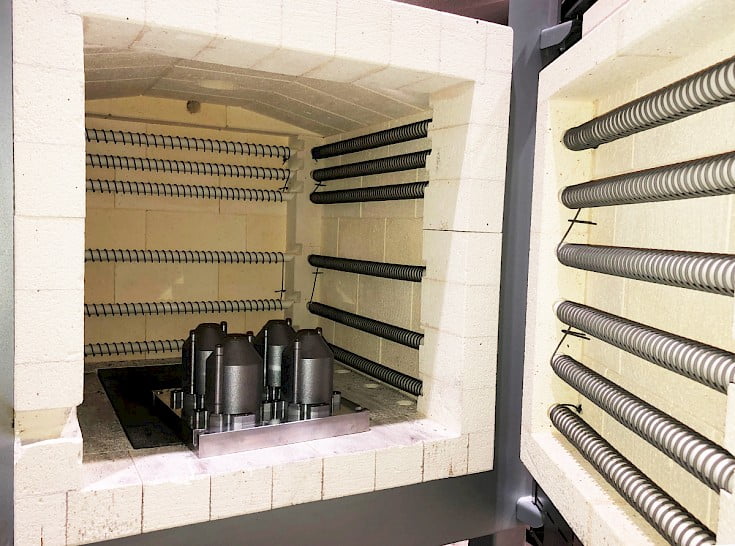 Rosendahl Nextrom's 3D-printed burners in a heat treatment furnace. Image: Delva Oy 
sActual competitiveness 
Metal 3D printing, as in this case of Rosendahl Nextrom with laser powder bed fusion, makes it possible to replace assemblies made of multiple machined parts with a single printed part. The direct benefit of this is the reduction in item management and the number of items to be stored and reduced assembly work and internal logistics. Measuring and modelling parts, in practice copying, is made difficult or even impossible by printing one closed structure instead of several parts. This protects the manufacturer's product rights. Improved forms enabled by 3D help achieve efficiency, improve ducts and make flow more even. 
Timo Id, CEO of Rosendahl Nextrom, considers the development opportunities offered by metal 3D printing to be significant and finds the investments in know-how and product development entirely justified. The example presented in this article is by no means their only one, and the work continues. 
How to get going 
Delva's Chief Technology Officer, Markku Lindqvist, has faced uncertainty in the field. The price of printed metal pieces is feared, and technology is classified as a "thing of the future." Lindqvist wants to make the discussion about printing more commonplace. "metal 3D printing is an excellent continuation to the range of manufacturing technologies. It produces high-quality and durable parts that bring a significant competitive advantage in terms of functionality", says Lindqvist. In the example of Rosendahl Nextrom, it was possible to print a cheaper component than conventional manufacturing. Lindqvist states that this is not always the case. However, when looking at the structure more broadly, the weight savings achieved, for example, by printing, can make it possible to lighten the design of the entire device to such an extent that the overall savings are a positive surprise. 
As the most important message, Delva's Chief Technology Officer raises the importance of experimenting. "It's not always worth trying to make perfect right away, but to start iterating," says Lindqvist. "Printing is a great way to do something new, even if the test phase is satisfied with a solution that implements the mounting dimensions of the old part. From this, it is easy to proceed to fully optimized components. This was the case with Rosendahl Nextrom. "The new design will be completely different and certainly even more cost-effective to manufacture", concludes Lindqvist. 
Sustainable development in the life cycle 
Metal 3D printing is a redeemed manufacturing method alongside others. Not everything is worth printing, but printing allows for structures that other methods cannot do. At their best, the benefits of different techniques are combined. When printing on a machined part, Delva talks about hybrid prints and has successfully implemented this method for numerous applications. 
While 3D printing of metal can significantly reduce the number of parts and the need for assembly, prints are not discarded monoliths at the end of their life cycle. The printed components are repaired by printing, digitalization can be utilized, and thus the life cycle of components is extended. 
A well-functioning, efficient network and the best range of services 
Delva wants to be part of the customer's evolving value chain and bring its expertise to the industry's renewal. Delva provides services in all matters related to 3D printing and regularly uses simulation when needed to achieve successful manufacturing. Delva believes that less is more in everything except the number of 3D printable metals and the number of network partners. Thus, Delva offers Finland's most comprehensive range of materials for metal printing and constantly develops its high-quality network. Delva's point of view is that the network will diversify the expertise and increase resources and flexibility. Nevertheless, if they wish, can the customer always get their 3D solution from one point, Delva. Cooperating will promote both the 3D industry and the whole industry to a new level. Therefore Delva is a member of FAME, the recently established ecosystem of Additive Manufacturing in Finland. 
Continuous development of skills, knowledge, and competence are prerequisites for success in an ever-changing world. A solid foundation for Delva, which specializes in metal 3D printing, has been built on this view. A competent, committed, and highly enthusiastic organization creates solutions together with the customer. From Delva, Additive Manufacturing for tough use.